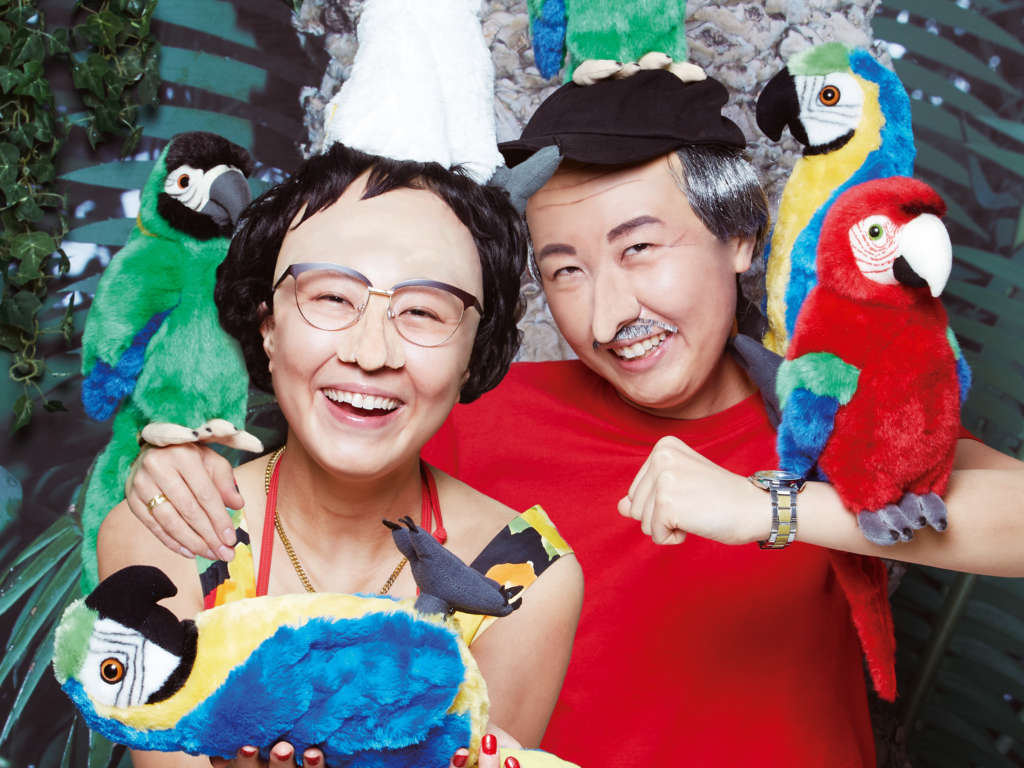 Gute aussichten 2017/2018
Duration: 24/11/2017 - 04/02/2018
Opening: 23/11/2017, 9 pm
Press Preview: 23/11/2017, 11 am
Talking about Pictures with Pictures gute aussichten – junge deutsche fotografie 2017/2018 (good prospects - young german photography 2017/2018)
With the exhibition "gute aussichten 2017/2018", the NRW-Forum Düsseldorf presents once more the opening exhibition of the renowned award for young talent from 24 November 2017- 4 February 2018. The award winners have now been decided. In the 14th year of gute aussichten the jury has selected eight works from 94 submissions and 35 institutions - Talking about Pictures with Pictures.
Once a year, the jury of the "gute aussichten - junge deutsche fotografie" competition selects the best works of a new generation of photography. This is the second time that the opening exhibition of the most important German prize for new talent in photography has taken place at the NRW-Forum Düsseldorf. The gute aussichten winners 2017/2018 are: Stephan Bögel (Ostkreuzschule Berlin), Janosch Boerckel (Fachhochschule Bielefeld), Alba Frenzel (Hochschule für Grafik und Buchkunst Leipzig), Laura Giesdorf (Berliner Technische Kunsthochschule), Ricardo Nunes (Hochschule für Künste Bremen), Alexandra Polina (Fachhochschule Bielefeld), Julian Slagman (Neue Schule für Fotografie Berlin) and Rie Yamada (Kunsthochschule Berlin-Weißensee).
In total, gute aussichten – junge deutsche fotografie 2017/18 presents over 200 subjects, including 52 one-off pieces, 10 handmade family photo albums, two books, a two-channel video projection, one slide projection and a wide spectrum of diverse ideas, reflections and photographical strategies, formal and medial implementations, which portray the current status quo of young photography. After the opening exhibition at NRW-Forum Düsseldorf, the selected artists will be shown in further exhibitions and initiatives nationally and internationally.
Prizewinners 2017/2018
Stephan Bögel // Scenic Utah // Ostkreuzschule Berlin The suicide of a loved one leaves a gaping wound in the hearts of friends and relatives. Many painful questions arise - about the reasons why, about one's own guilt and responsibility. Most of these questions find no conclusive answer and slip away, little by little, under a cloak of silence. In Scenic Utah, Stephan Bögel attempts to find pictures for this blind spot in his life, to give an outline to the intangible. With photos from the family album, his own staging and facts from the police report, he constructs a rationally grounded scenario, which does not answer any of these questions, yet breaks through the agonising silence.
Janosch Boerckel // Nonplusultra // Fachhochschule Bielefeld In Nonplusultra, Janosch Boerckel depicts a visually rich cross-section of everything explored at the intersection between man and machine in the laboratories of social and natural scientists. It oscillates between documentation and staging, between fiction and reality. Where humans are dismantled into their components to gain insights for artificial arms, legs, ears and other body parts, Boerckel's photographs do not merely document and comment on the visual parameters of scientific images, they also examine and question them.
Alba Frenzel // Fotopapier, Licht, Ei (Photographic paper, Light, Egg) // Hochschule für Grafik und Buchkunst Leipzig 3-, 5-, 7-minute eggs, fried eggs, scrambled eggs, sliced egg, raw egg - the whole range of conceivable physical states of hen's eggs are laid by Alba Frenzel on photographic paper, at various angles, exposed in different lights and on different types of paper. The result is photograms, and this kind of cameraless image production which cuts right through the history of photography. As a result, technology appears to us as an old acquaintance, yet the final results of these one-off lab results displayed in Fotopapier, Licht, Ei appear refreshingly new. The artist, who displays her colour photograms on the wall without frames, trims their sheets. Out of this develops a surprising choreography, whose aura of calculated imperfections is a integral part of its visual strength.
Laura Giesdorf // Full Coverage Makeup Tutorial – Concealing Myself with Flawless Monotony // Berliner Technische Kunsthochschule Glam, modern, simple, everyday makeup - no matter which style a woman needs, all it takes is one click on the internet, and the desired look is explained step by step by a perfectly made-up woman. However, Laura Giesdorf wants to do something completely different to showing us the latest style though. Her question, which lurks behind the monotone, lascivious make-up tutorial, almost bordering on obscenity, is this: What makes a woman a woman? Beyond biological differences, it is above all the assigned roles which society performs that create gender identities. In this sense Giesdorf's video is to be understood as an invocation to break down predefined stereotypical roles.
Ricardo Nunes // Places of Disquiet // Hochschule für Künste Bremen If one considers the Portugal portrayed by Ricardo Nunes, it is more than clear how definitively our feelings are linked to the pictures we form from memories. For Nunes, landscape becomes cityscape, dark street canyons with harsh shadows, virtually deserted, brooding streets in the midday heat, bleak concrete blocks, which rise into the sky like stony mountains. Nunes' Places of Disquiet chronicles childlike bewilderment between uncles, aunts and cousins, who had to be visited as a sort of ritual, and places, which for the child are linked with the feeling of lostness and strangers.
Alexandra Polina // Masks, Myths and Subjects // Fachhochschule Bielefeld Light and strong colours jump out towards us from Alexandra Polina's installation. Folkloric patterns form the background to bustling portraits. The skin colours of the protagonists range between white and the colour of milky coffee. A man rests, surrounded by oriental rugs on the ground, another lies amongst fragments of Chinese porcelain. These kinds of attributes are read as parts of a puzzle, which we put together quickly: if we see colourful patterns, we think of Africa. If we see porcelain, which originally comes from China, together with the rugs, we think we are in the East. In the end, the puzzle doesn't work out as expected, and we look deeply into the mirror of our own stereotyped ideas: Masks, Myths and Subjects. The people in Polina's photographs were born and raised in Germany. And it is up to us to adapt the image in our head of our fellow citizens to fit the physical reality.
Julian Slagman // Vergissmeinnicht (Forget-me-not) // Neue Schule für Fotografie Berlin A small boy stands next to an aluminium case which belongs to his grandfather Fritz and contains photographic equipment. As a commissioned photographer, Fritz takes landscape pictures for publications such as calendars or puzzles. Barely nine years old, the child is starting to photograph the family himself, carrying on the image-making tradition. Many years later, the young man in Vergissmeinnicht will make an image object in the form of the trusty case, with dancing puzzle pieces over the frames and front of it. The time span between both images marks a process of becoming: from the child, who through encountering photography daily becomes a photographer himself. However, it is not the image as an autonomous work to which Slagman pays his attention. Julian Slagman's style of photography is a continuous examination of his visual heritage. This is rooted in the comparative reflection on the family archives and his own creative work.
Rie Yamada // Familie werden (Becoming a Family) // Kunsthochschule Berlin-Weißensee Rie Yamada acquires collections of old family photos and (re)constructs new life stories from them. By choosing pictures, developing almost archetypal narrative arcs and garnishing them anecdotally, Yamada breathes new life into family histories. In ten handmade albums, we hold the tales in our hands which reflect everything that has been captured on celluloid since the triumphal progress of 35mm cameras: trips, weddings, the lives of children, Familie werden (Becoming a Family), everything that people want to freeze in time with photography and save from being forgotten. But Yamada's actual wish is to step into the shoes of the chosen protagonists herself and reconstruct the historical photo in person in full detail. At the end Rice Yamada is sitting there as Frau Kunze, smoking on the living room sofa. As the French writer André Gide puts it, "The best way to know yourself is to try to understand others."
About gute aussichten
Since 2004, the founders of gute aussichten - the curator and art scholar Josefine Raab and the author Stefan Becht - have invited professors from every German higher education institution and academy with a photography course to submit final pieces from up to five of their graduates. This year the jury of nine is made up of: Josefine Raab und Stefan Becht; Boris Becker, photographer, artist and filmmaker; Dr. Wibke von Bonin, art historian and cultural affairs journalist; Tamara Lorenz, photographer, artist and gute aussichten prize winner 2004/2005; Amélie Schneider, chief picture editor at NEON magazine; Alain Bieber, artistic director of the NRW-Forum Düsseldorf; Mario Lombardo, Bureau Lombardo and Ingo Taubhorn, curator at the Haus der Photographie, Deichtorhallen Hamburg.
gute aussichten GRANT
This year, the gute aussichten GRANT will be awarded for the first time, a project and exhibition bursary which supports the 122 gute aussichten winners to date alongside the yearly competition. This year, the GA prize is awarded to the photographer, artist, and gute aussichten prize winner from 2014-2015 Stefanie Schroeder for her work 40h, max 2 Monate (40hrs, max. 2 months). The 45 minute 2-channel video projection, which is entirely dedicated to the theme of self-optimisation, is on display alongside the gute aussichten exhibition at the NRW-Forum.
Catalogue
The accompanying catalogue to gute aussichten – junge deutsche fotografie 2017/2018 of the same name will be published at the end of November 2017 (German/English) by Stefan Becht & Josefine Raab (224 pages , around 350 images, 16.5 cm x 24 cm, paper-bound, approx. 20 Euro).
Images
It is permissible to use at no charge the pictorial material listed here for topic-oriented reporting (in print- and online-media as well as via social-media channels) and with inclusion of the indicated photo credit. The exemption from utilization fees expires six weeks after the end of the exhibition.
In the case of an article or reprint, we would be pleased to receive a copy at presse@nrw-forum.de or NRW-Forum Düsseldorf, Pressestelle, Ehrenhof 2, 40479 Düsseldorf. Thank you.
Partners


Mobile Photography Partner
NRW-Forum Düsseldorf · Ehrenhof 2 · D - 40479 Düsseldorf
Tel.: +49 (0)211 – 89 266 90 · info@nrw-forum.de
Imprint