Free Bikes
Free Bike Sharing System
Together with the creative consultancy denken3000, we have launched a bike sharing initiative - the Free Bikes campaign - that will provide bicycles free of charge. It will be possible to collect and then return the bikes at a total of four stations.
→ more information

Photo Book Workshop
Rund ums Rad
7 May – 28 May 2017, 10 am - 17 pm
At the photo book workshop [All Around Bikes], the photographer Ruslan Varabyou will demonstrate how you can create a perfectly designed photo book with the help of the professional software from our Partner CEWE. The best books will be exhibited as part of the "Mythos Tour de France" exhibition at the NRW-Forum.

→ more information

pitch: cci
discover cultural & creative industries
11.5.17, 18 pm
Can you earn money with culture, too? pitch:cci is a public event organised by the Business-Angel-Netzwerk AngelEngine and the NRW-Forum Düsseldorf as part of the Start-up-Woche [Start-up Week]. Start-ups from the creative industries will be pitching to investors and members of the public who have an affinity for culture
→ more information
entweder oder. sowohl als auch. dazwischen.
The theories behind new exhibiting practices
20.5.17, 2 - 6 pm
The "entweder oder. sowohl als auch. dazwischen." symposium offers a backstage glimpse into the current exhibiting scene. This is an invitation from the edi – Exhibition Design Institute of the Düsseldorf University of Applied Sciences - together with the NRW Forum, to a discussion about the status quo in exhibiting, with contributions from curators, architects, designers and academics.
→ more information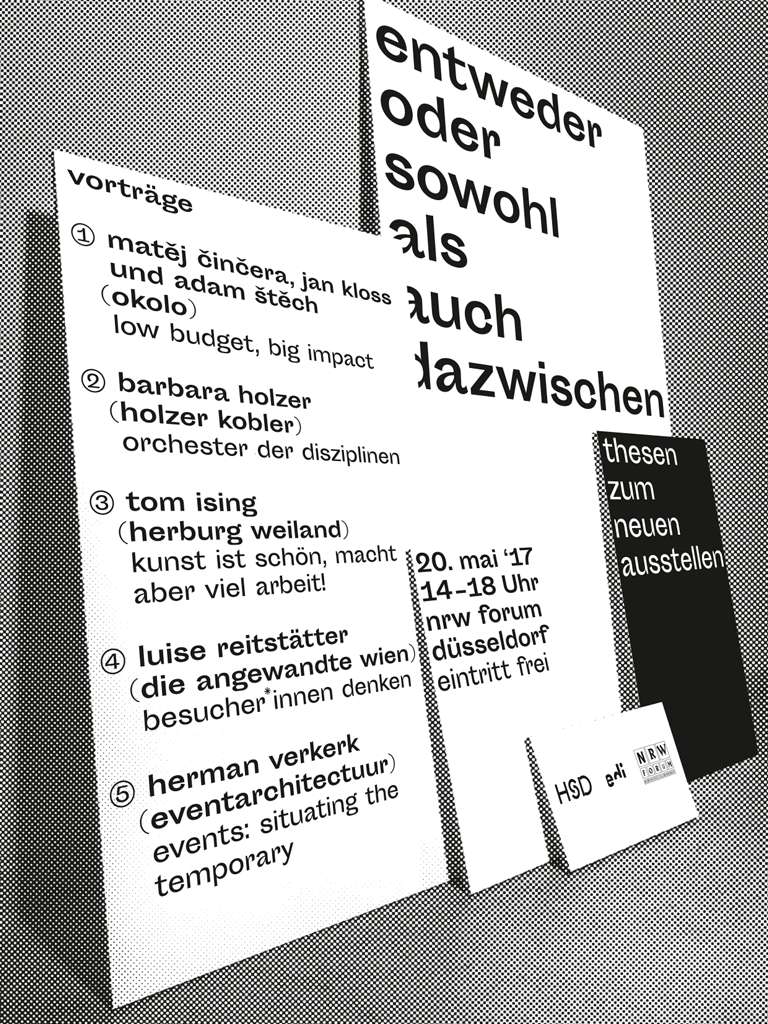 Meta
Exploring Digital Creativity
24.5.17, 9 am - 6 pm
META is a top class conference on all issues relating to digital art, culture and creativity that will take place for the first time this year, at the NRW-Forum Düsseldorf, on the occasion of the opening of the Unreal exhibition.
→ more information
Digital Detox
In the weekly yoga sessions with Katharina we will be switching off the digital devices and recharging our own batteries. This open class will take place every Monday from 6.30 pm to 7.45 pm. There is no need to register - first come first served.
There will be no course held on Easter Monday

→ klick for more information

Mobile Photography Partner
Partners
NRW-Forum Düsseldorf · Ehrenhof 2 · D - 40479 Düsseldorf
Tel.: +49 (0)211 – 89 266 90 · info@nrw-forum.de
Imprint