The NRW-Forum Düsseldorf is an international exhibition centre spotlighting photography, pop and digital culture - a vivid idea factory for the whole family.
Note:
Dear visitors,
until 8 October 2020 we are rebuilding our exhibitions and are closed.
We will be back again from October 9th with the exhibitions #cute. Islands of happiness? and Made in Düsseldorf #3: Alex Grein / Johanna Reich at the usual times.

Your team of the NRW-Forum Düsseldorf
CORONAVIRUS
Please note the following regarding visits to the NRW-Forum's exhibitions
Dear visitors,
Due to the coronavirus pandemic we have modified operations and procedures in line with current regulations and guidelines.
On principle, all NRW-Forum exhibitions are open.
We have restricted the numbers of persons present in our exhibition halls and foyers, so as to enable visitors to keep a precautionary distance to others. Wearing a face covering is compulsory throughout our premises.
The museum café is currently open from Tuesdays to Sundays from 12 noon to 5.30 p.m. Face coverings may be removed while seated.
Any major changes are published without delay via our website, social media channels and other media.
Please check this website once again shortly before your visit.
Visitors who are unable to wear a face covering for medical reasons are kindly requested to contact our visitor office.
We look forward to your visit.


Opening hours
Tuesday – Thursday 11 am – 6 pm
Friday 11 am – 9 pm
Saturday 10 am – 9 pm
Sunday 10 am – 6 pm

Tickets
Day ticket Tue-Thur: 6 € / 4 € reduced / children and youths (up to 17 years) 1 €
Day ticket Fri-Sun & holiday: 8 € / 5 € reduced / children and youths (up to 17 years) 1 €
* Concessions for: students, trainees, BFD, people with disabilities (degree 50), DüsseldorfCard, Düsseldorf honorary card; ArtCard, on presentation of an EC or credit card from Stadtsparkasse Düsseldorf on every 1st Saturday of the month 50 % reduction

Free admission: Art:card Düsseldorf, Düsselpass, Refugees, Artist Card Düsseldorf, Members ICOM/AICA, Person accompanying a disabled person (Mark "B")

In NRW-Forum the wearing of a mouth and nose protector is currently required.
Guided Tours
Free guided tour every last Friday of the month at 6 pm, no registration

Guided tours for groups through one or more of the in-house exhibitions can be booked for a date of your choice (EN/DE/FR, 45-60 min): 75 Euro + entrance, max. 20 participants
Guided tour for school classes (DE, 45-60 Min): 60 Euro entrance incl., max. 25 pupils, free entrance for one teacher
How to reach us
→ All information about travelling by car, public transport and accessibility
Video lounge of the imai foundation
In the imai Foundation's video lounge on the ground floor, you can immerse yourself in the history of video art from the 1970s to the present day and explore it interactively on tablets. The screening series Im Fokus also regularly presents individual artistic positions.
PONG - pop culture & gastronomy
The PONG combines regional scene gastronomy with modern pop culture.
Changed openening hours!
During the reconstruction of the exhibitions PONG will be closed.

Meanwhile there is a beverage cart on site!
It is open from Tuesday to Friday from 12:00 - 20:00 o'clock.

Saturday (Beats & BBQ) from 13:00 - 21:00

Sunday 12:00 - 18:00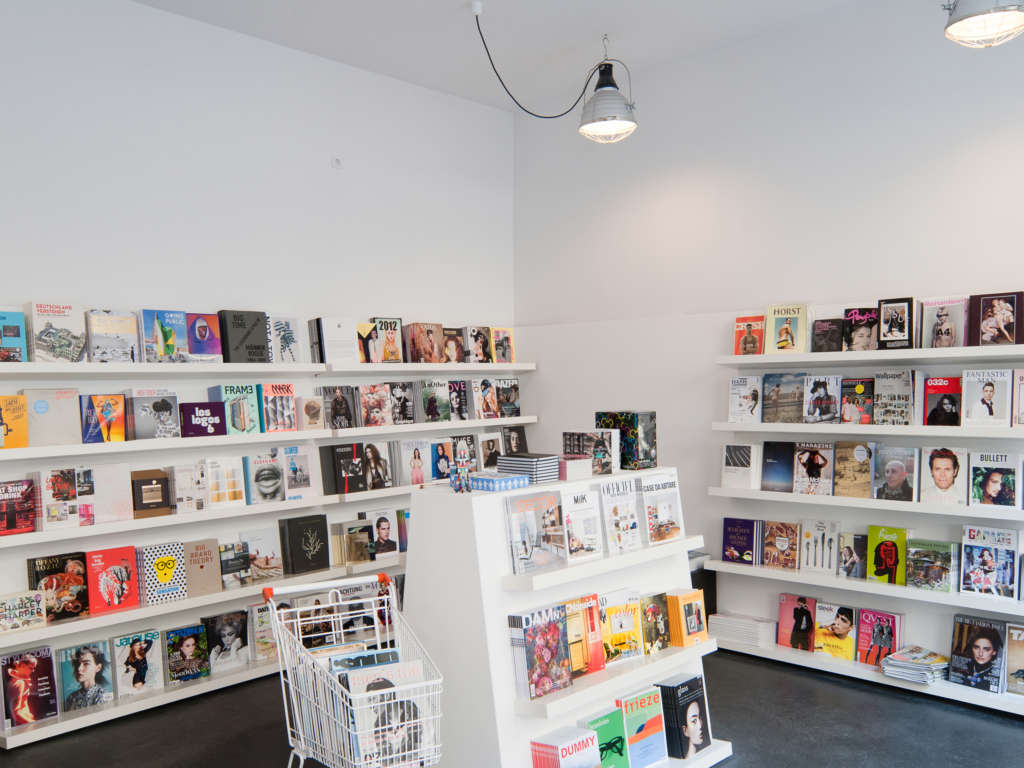 Shop: soda books
soda offers a large selection of books and magazines from all areas of fashion, photography, architecture and design.

Our partner hotel #hotelfriends
Partners
NRW-Forum Düsseldorf · Ehrenhof 2 · D - 40479 Düsseldorf
Tel. +49 (0)211 – 56642 749 · info@kunstpalast.de
Imprint | Privacy policy | Press
NRW-Forum Düsseldorf is a part of Stiftung Museum Kunstpalast