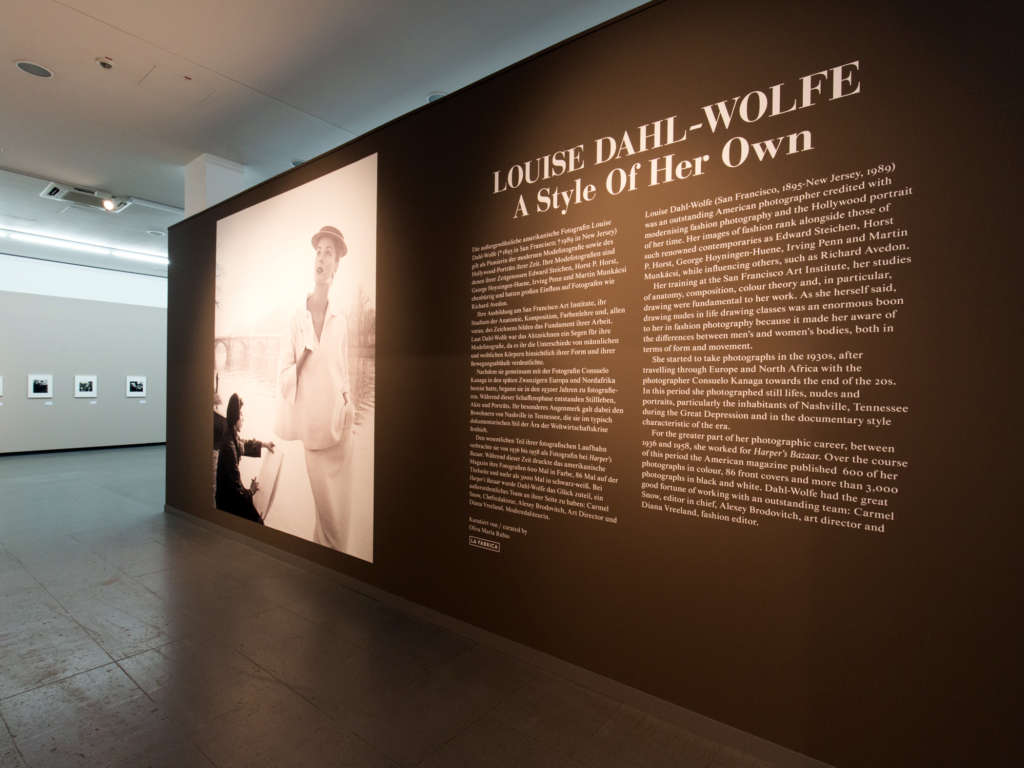 Louise Dahl-Wolfe: a Style of her Own
Duration: 16.2.-20.5.2018
Opening: 15.2.2018, 7 pm
Press meeting: 15.2.2018, 11 am
Press Release
Pioneer of fashion photography
Louise Dahl-Wolfe: A Style of her Own
For the first edition of the new festival Duesseldorf Photo, the NRW-Forum Duesseldorf will start with a pioneer of fashion photography: The exhibition "Louise Dahl-Wolfe: A Style of her Own" presents more than 100 works by the famous fashion photographer, who shed light on how Dahl-Wolfe became one of the most important photographers of the 20th century and with her work helped shape the image of a modern, independent woman.
Louise Dahl-Wolfe is regarded as a key figure in American photography of the 1930s, 1940s and 1950s, whose work had a great influence on famous photographers such as Horst P. Host, Richard Avedon and Irving Penn. Her modern approach to Hollywood portrait and fashion photography shaped American visual culture. The exhibition "Louise Dahl-Wolfe: A Style of Her Own" presents photographs from the years 1931 to 1959 with portraits, nudes, fashion photography and documentary photography, giving a comprehensive insight into the work of an exceptional photographer who modernized fashion photography and Hollywood portrait and was able to gain a place in a previously male-dominated world.
A key focus of the exhibition is Dahl-Wolfe's 22 years as the leading contributor to Harper's Bazaar, from 1936 to 1958, working with editor Carmel Snow, legendary fashion director Diana Vreeland and the designer Alexey Brodovitch. The exhibition highlights Dahl-Wolfe's proli c tenure at Harper's Bazaar where she created 86 covers for the magazine, 600 colour plates, and over 2,000 black-and-white photographs.
During this time, Dahl-Wolfe paved the way for the use of color and daylight in fashion photography. She was one of the first to work in the open air and with natural light, which was something completely new in the highly formal and European fashion photography of that time. She brought a modern look into fashion photography, a relaxed and intimate look that was unquestionably American. She showed Parisian couture on well-trained bodies and established a new naturalness and health in the visual language of fashion photography. It showed fashion that was casual and comfortable, reflecting the increasingly active and independent lifestyle of women at that time.
Her use of color quickly became very popular in advertising, and in 1939 the Art Directors Club of New York even awarded her a medal. During her time at Harper's Bazaar, Louise Dahl-Wolfe worked with models such as Suzy Parker, Jean Patchett, Barbara Mullen, Mary Jane Russell and Evelyn Tripp. She helped to create their unique look and was instrumental in creating the first generation of supermodels. As Dahl-Wolfe herself once said:' there weren't really fashion photographers, just artists like Steichen who just happened to do fashion photography'.
In addition to fashion photography, the exhibition also includes a series of portraits by literary figures such as W. H. H. Auden, Christopher Isherwood, Jean Cocteau, Edith Sitwell, Colette and Carson McCullers show fashion designers and Hollywood stars such as Bette Davis, Orson Welles, Vivien Leigh, James Cagney and Veronica Lake. In 1938 the magazine sent her to Hollywood to portray film stars. Here too, Dahl-Wolfe was one of the first to work outdoors. Among the actors and actresses she took out of the studio and photographed with natural light were Vivien Leigh, Marlene Dietrich, Carole Lombard, Bette Davis, Ginger Rogers and Charles Boyer.
Alongside fashion and portraiture Louise Dahl-Wolfe was also a documentary photographer. The exhibition presents a selection of her early work, taken in Nashville Tennessee, that highlights black Americans, the poor and the dispossessed. These raw images of the American Depression present a fascinating contrast between Dahl-Wolfe's personal interest and her commissioned glamorous work.
The exhibition "Louise Dahl-Wolfe: A Style of Her Own", previously on view at the Fashion and Textile Museum in London, is her first solo exhibition outside of the USA.
Biography:
Louise Emma Augusta Dahl was born in San Francisco in 1895 as the daughter of Norwegian immigrants. In 1914 she began her studies at the San Francisco Art Institute, where she studied design, composition, art history and color theory (among others with Rudolph Schaeffer and Frank Van Sloun) and completed additional courses in drawing and anatomy.
Due to the death of her father in 1919, she postponed her plans to study interior design and began working as a illuminated advertising designer. Her encounter with photographer Anne W. Brighton inspired her to take photographs herself. After studying interior design, Dahl-Wolfe met Edward Weston and Dorothea Lange in 1930 and began her work as a professional photographer.
From 1936 she worked in New York City as a permanent photographer for Harper's Bazaar. In the following 22 years, Harper's Bazaar published over 600 colour photographs, 86 covers and about 3000 black-and-white photographs of her. From 1958 she worked for Sport's Illustrated and Vogue until she finally retired in 1960.
Her autobiography "Louise Dahl-Wolfe: A Photographer's Scrapbook" was published in 1984 and her first retrospective exhibition "Louise Dahl-Wolfe: A 90th Birthday Salute" took place in 1985 at the Museum of Contemporary Photography at Columbia College, Chicago.
Louise Dahl-Wolfe died in 1989 in New Jersey.
IMAGES
It is permissible to use at no charge the pictorial material listed here for topic-oriented reporting (in print- and online-media as well as via social-media channels) and with inclusion of the indicated photo credit. The exemption from utilization fees expires six weeks after the end of the exhibition.
In the case of an article or reprint, we would be pleased to receive a copy at presse@nrw-forum.de or NRW-Forum Düsseldorf, Pressestelle, Ehrenhof 2, 40479 Düsseldorf. Thank you.
Partners


NRW-Forum Düsseldorf · Ehrenhof 2 · D - 40479 Düsseldorf
Tel.: +49 (0)211 – 89 266 90 · info@nrw-forum.de
Imprint | Privacy policy