100 ideas for a new world
"This new vision ... will be the theoretical basis of future constructions, ... as all the reasons for becoming impassioned disappear. … Everyone will, so to speak, live in their own personal "cathedrals". There will be rooms more conducive to dreams than any drug, and houses where one cannot help but love. … You'll never see the hacienda. It doesn't exist. The hacienda must be built."
Ivan Chtcheglov, Formula for a new urbanism, 1953
The future we are dreaming of
With the exhibition project "Planet B" we will be presenting alternative designs for the future and an exhibition as a living organism.
The international group exhibition "Planet B – 100 ideas for a new world" engages with the radical changes to our planet – and looks for a plan B, for the future we are all dreaming of. Some 500 years after the publication of Utopia, a novel by Thomas More, artists, designers, architects, researchers and entrepreneurs will be presenting their utopias for the 22nd century.
Food hacking, the smart city, alternative economies and sustainable consumption – with their projects, the artists will be highlighting alternatives and drawing our attention to social, political and economic injustices. Yet, the exhibition project is not merely about showcasing these ideas - they will also be realised in the exhibition as well as in public spaces.
Overview of Dates (booklet pdf)

Planet B has been curated by Alain Bieber, Nicola Funk and Joanna Szlauderbach in cooperation with Vasco Bontje (Sustainica) and Darija Šimunović (project Hörner/Antlfinger). An accompanying publication by Lukas Feireiss and Matthias Hübner presents many other utopias – from Steward Brand, though Chus Martínez and right up to Raymond Kurzweil – that serve as an inspiration and encourage action.

Artists
Agnieszka Pokrywka
Alvaro Urbano
Anna Romanenko
Armin Chodzinski
Atelier für Sonderaufgaben
Andrew Gryf Paterson
Ben J. Riepe
Björn Kühn
Brad Downey
Constantin Schlachter
Eric Winkler
Hörner/Antlfinger
Jan Holtmann
Jana Pejoska
Kathryn Fleming
Labor Fou
Lars Zimmermann
Mathieu Tremblin
Merlin Baum
Mikko Laajola
Norma D. Hunter
per.Vers
Valentina Karga
Vladimír Turner
Publication
The publication accompanying the exhibition "Planet B – 100 ideas for a new world" is a collection of different ideas for a new world – a Planet B. The most visionary artists, designers, architects, writers and futurologists in the world present their political, poetic, odd and radical ideas for a new world.
Research teams on Planet B:
01.06.-12.06.2016
Andrew Gryf Paterson, Norma D. Hunter, Mikko Laajola, Jana Pejoska, Agnieszka Pokrywka, Anna Romanenko and Björn Kühn: The team dedicates itself to the field of bio- & food-hackings by collecting fruit in the city and experimenting with fermentation, compost and coconuts.
21.06.-04.07.2016
Mathieu Tremblin & Vladimir Turner target the city Düsseldorf and realise context related interventions in public space.
14.07.-24.07.2016
Valentina Karga & Lars Zimmermann bring economic systems to their alleged limits. During workshops, presentations and walks they engage themselves with Open Source Hardware, new economic models and slime.
25.07.-01.08.2016
Jan Holtmann & Armin Chodzinski create pyjama artifacts during a nightly round table with invited guests.
05.08.-14.08.2016
Merlin Baum investigates, which interfaces will be predominant in the future, as he works on his own, alternative interface solutions for the future.
Upcomimg

20.8. | 6pm
Performance #5 | SEA + AIR and Ben J. Riepe Kompanie Live
International group exhibition at the NRW-Forum and in public space
The passable room installation "UUUUU(topia)" by Düsseldorf's Ben J. Riepe Kompanie is experiencing performances during the entire exhibition period and offers a wide lawn, portraying a natural area as an art space and an art space as a natural area.
The artist duo Hörner/Antlfinger is undertaking three workshops that consist of guided imaginary trips through the city of Düsseldorf and a presentation of their previous time travel in Sofia, Istanbul and Sarajevo.
The designer Kathryn Fleming develops new life forms, using taxidermy, which are ideally adapted to life in the future.
Eric Winkler designs new uniforms for the police and questions political dimensions of visual unification.
The works of Brad Downey demand privatized and commercialized urban spaces through temporary interventions. The series Fence Hack creates passages at points where borders have deliberately been drawn through fences. The removed material is in turn used for the frame of his artworks.
The photographs of Constantin Schlachter show abstracted nature motifs and mental landscapes that appear to be pictures of an unknown future.
The Swiss conceptual artist duo Atelier für Sonderaufgaben (Studio for special tasks) creates fuel out of spoken words: the "Quatschmobil" (Chatmobile) is taking passengers on a ride through the city, free of charge, as long as they "quatschen" (chat). For every ten kilometers, random campaigns in public space are triggered, such as a free haircut, shoe repair or pizza.

If you are interested in driving or chatting please get in touch with: info(at)nrw-forum.de
http://www.quatschmobil.ch/

As part of the Planet B exhibition, Alvaro Urbano installs an aviary in the outdoor area of the NRW-Forum, regarding the series "Utopias are for Birds". For the ongoing project he develops aviaries based on drawings and drafts that originated from utopian projects and architectural concepts which could never be realised.

The theatre project "Niemandsland-Unterstadt" by Theaterkollektivs per.Vers., in coproduction with ASPHALT Festival, in cooperation with the culture center ZAKK and the Rheinbahn AG, is an excursion to a decommissioned train tunnel, which is a refuge for people, who feel the world has become too hostile.
Vladimir Turner & Mathieu Tremblin analyse the city Düsseldorf, its circumstances and structures, while realising context related interventions in public space.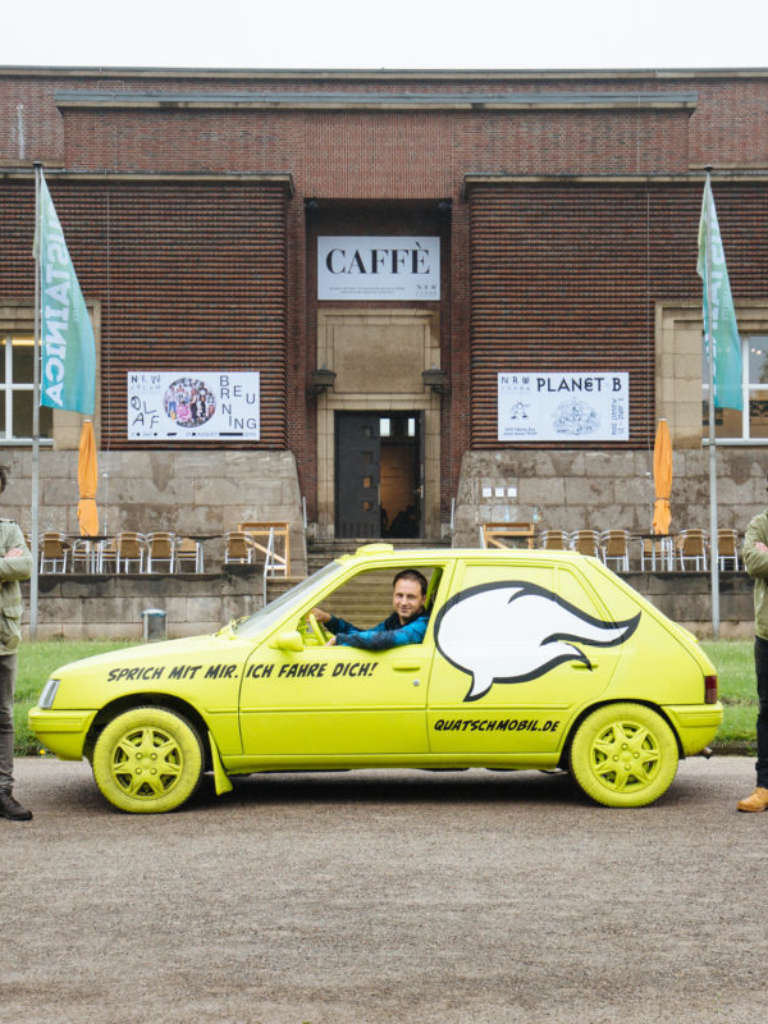 Funded by
In Partnership with
Partners
NRW-Forum Düsseldorf · Ehrenhof 2 · D - 40479 Düsseldorf
Tel. +49 (0)211 – 56642 749 · info@kunstpalast.de
Imprint | Privacy policy | Press
NRW-Forum Düsseldorf is a part of Stiftung Museum Kunstpalast